Medicare Advantage Top 10 Plans In 2023
Updated April 17, 2023
Written by: Jesse Slome
Reviewed by: Mindy Hartman
Medicare Advantage Top 10 plans in 2023 have nearly 80 percent of all MA plan enrollees. The largest is UnitedHealthcare which has the AARP 'endorsement' followed by Humana. The top-10 MA plans grew faster (2022-2023) than the rest of the MA industry. Here are the top-10 according to the latest data.
UnitedHealthcare
Humana
CVS (Aetna)
Elevance Health (formerly Anthem)
Kaiser
Centene
Blue Cross Blue Shield of Michigan
Cigna Health
Highmark Health
Guidewell (holding company for Florida Blue)
Market Share For Top-10 MA Plans (March 2023)
UnitedHealthcare – 28.5%
Humana – 17.8%
CVS (Aetna) – 10.6%
Elevance Health – 6.4%
Kaiser – 5.8%
Centene – 4.3%
Blue Cross Blue Shield of Michigan – 2.1%
Cigna Health – 1.8%
Highmark – 1.2%
Guidewell – 1.0%
Find The Best Medicare Advantage Plans
Depending on where you live, there can be dozens of Medicare Advantage (MA) plans available. The top-10 may offer the best one. Or you may find better coverage from #11 or #19. For that reason, we believe it is important to carefully compare.
One of the best resources for information and comparisons can be local Medicare Advantage agents. The Association makes available a free online directory. Use it to find agents in your Zip Code. It is 100% private. Enter no personal information to access the directory.
---
Top-10 MA Plans and 2022 to 2023 Growth
The chart below (from Mark Farrah Associates) pulls from the latest CMS data. It reports the market share and percentage growth.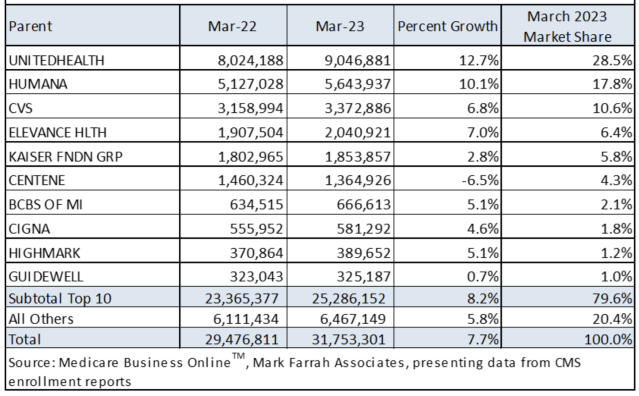 Percentage Growth Medicare Advantage Top 10 Plans (March 2022-2023)
UnitedHealthcare – 12.7%
Humana – 10.1%
CVS (Aetna) – 6.8%
Elevance Health – 7.0%
Kaiser – 2.8%
Centene –  (-6.5%)
Blue Cross Blue Shield of Michigan – 5.1%
Cigna Health – 4.6%
Highmark – 5.1%
Guidewell – 0.7%
---
Additional Medicare Information You May Find Of Value
Please click on any of the links (below). Read other recent news stories or reports containing information we believe you may find of value. Find the best Medicare insurance plan options by searching the Association's Medicare insurance information center.
Top 10 Additional Medicare Advantage Benefits
Number of Medicare Advantage Plans 2023 Grows
Medicare Advantage Agent Commissions 2023
Top-10 Drugs Taken by Medicare Beneficiaries 2023
Switching to Medicare Advantage from Traditional Medicare is Growing
The Difference Between Medicare Broker Medicare Agent Matters
Best Medigap 2023 Prices Reported By Association
Senate Report Slams Medicare Advantage Marketing Practices
What Medicare Supplement Is The Most Popular Medigap?
Key 2023 Medicare Advantage Data For Consumers