Key 2023 Medicare Advantage Data For Consumers
Updated December 8, 2022
Written by: Jesse Slome
Reviewed by: Mindy Hartman
2023 Medicare Advantage Data: More than 28 million Americans are enrolled in a Medicare Advantage plan, nearly half of those on Medicare. While the average number of plans available in 2023 is 40, many people have as many as 70 different plans to choose from. Here are some vital facts and tips to find the best Medicare Advantage plan for your needs.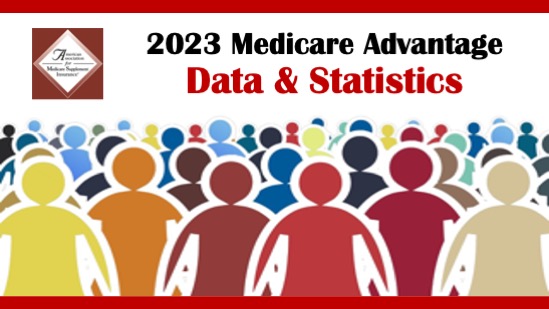 Key 2023 Medicare Advantage Data & Statistics
More than 28 million have Medicare Advantage (MA) coverage.
Nearly 4,000 MA plans are available; up from 1920 in 2016.
The average beneficiary has 43 available plans; up 2x from 2018.
In some areas, 75 to 87 different plans are available.
Many insurers offer multiple plans (some 10+).
Eight (8) new firms started selling MA plans this year.
HMO plans account for 58%.
Some 89% of plans include prescription drug coverage.
Nearly all (97%) offer additional benefits (vision, dental, hearing).
69% pay no premium (2022) – other than Medicare Part B.
MA accounts for $427 billion (or 55%) of total federal Medicare spending.
More Than Half Choose Medicare Advantage Coverage
The growth of Medicare Advantage (MA) plans is clear. More than 28 million people now choose MA coverage up dramatically from 16 million in 2015.
Two-thirds of these are individuals eligible for Open Enrollment. The rest qualify for 'Special Needs Plans (16%) or Employer-Sponsored group plans (18%).
There are certainly a number of reasons for the growth. Some say the Medicare program (government) benefits because it is a means of controlling costs. Insurers who provide MA plans (like UnitedHealthcare and Humana) apparently like them and find them profitable.
And certainly, consumers like them. Especially the growing number of plans that charge no premium while at the same time offering added free benefits like vision, dental, hearing, fitness and even food (if you are poor).
But as my late dad would tell me 'there is no free lunch' and there are certainly things consumers need to know. They include;
You have many plans to choose from and that can be confusing.
There can be costs and some can be high.
Your care providers will very likely be limited.
There's a vast difference between what benefits are provided free.
How To Find The Best Medicare Advantage Plan
Celebrity spokespeople and continual ads on cable TV don't come free. Most are paid for by entities who want you to call their toll-free number. When you call, they obviously hope to have you buy whatever plan(s) they favor.
In 2023, the average person will have 43 different Medicare Advantage plans to choose from. Some will have over 80. Two firms are definitely the national giants (UnitedHealthcare and Humana). But others like CVS Health, Cigna, your state's Blue Cros/Blue Shield association and Kaiser Permanente are definite players.
Nobody represents all the different plans you'll have available. Many will favor just one, maybe two or three.
For that reason, we believe information is key. And, because Medicare is LOCAL, having at least one conversation with a local Medicare Advantage agent is vital.
The Association provides a free online directory listing agents by Zip Code. It's 100% private. You enter no personal information. Enter your Zip and click to see a listing of agents in your area. Those that offer Medicare Advantage will typically say so in their description.
---
Questions To Ask Your Medicare Agent
Medicare Advantage plans are LOCAL. The agent on a toll-free call often only knows what's shown on their screen.
If you do connect with a local Medigap agent, here are some suggested questions to ask:
How long have you been selling Medicare Advantage plans? While we love newcomers, it generally takes a few years to really understand all the nuances of various plans. And to learn from customers which plans live up to expectations and which do not.
Which plans do you sell? Ask specifically for the names versus some generic response such as 'don't worry, I sell them all.'
Can you please explain to me all the potential costs I might incur with this specific plan?
How can I tell which doctors and medical facilities are covered? Ask specifically what happens if you want to see someone outside of the plan. People often become unhappy with Advantage plans when they have serious needs or want to see specialists. For example, the Mayo Clinic recently announced they would not accept any Medicare Advantage.
---
2023 Medicare Advantage Data
Total Medicare Advantage Enrollment
2023 – Over 28 million
2022 – 28 million
2020 – 24 million
2015 – 16 million
2010 – 11 million
2007 –    8 million
Data reported November 2022 prior to 2023.
Number of Medicare Advantage Plans Swells
For 2023 some 3,998 plans will be available nationally according to Kaiser Family Foundation Data. Here's MA plan data:
2023 – 3,998 plans
2022 – 3,770
2020 – 3,068
2015 – 1,859
2010 – 2,259
Top Medicare Advantage Plans By Firm (2022)
UnitedHealthcare (7.9 million)
Humana (5 million)
Blue Cross / Blue Shield (4.1 million)
CVS Health (3.1 million)
Kaiser Permanente (1.8 million)
Centene (1.4 million)
Cigna (.6 million)


---

Additional Medicare Information You May Find Of Value

Please click on any of the links (below) to read other recent news stories or reports containing information we believe you may find of value.

What Medicare Supplement Is The Most Popular Medigap?

Home Care Services Increasingly Covered By Medicare Advantage

The Illinois Birthday Rule For Medicare Supplement Insurance

5 Tips To Find Your 2023 Medicare Prescription Drug Plan