Is The Medicare Grocery Benefit A Scam?
Updated December 21, 2022
Written by: Jesse Slome
Reviewed by: Mindy Hartman
Is the Medicare Grocery Benefit for real? Medicare doesn't provide money for groceries. But some Medicare Advantage (MA) plans do. If a particular MA plan includes this benefit, understand that only individuals with serious health conditions generally qualify. Here's what you should know about Medicare's "Grocery/Meal Benefit" and a misleading advertising to beware of:
The benefit is not included under Medicare Parts A or B.
Medicare Advantage plans (Part C) may offer it.
Certain health conditions may be needed.
Only healthy foods are covered.
Some (but not all) grocery stores participate.
Benefits can be monthly or quarterly.
Meal delivery programs may be an alternative.
Are The TV Ads Talking About Something Real?
Yes. But it's also misleading to think that everyone can get the Medicare Grocery Benefit. And, we have recently read about some scams targeting seniors.
You've undoubtedly seen the ads on cable TV: "Call this toll-free number now and see if you qualify for up to $900 in free groceries and meals." Can it be? Is it too good to be true? Let's explain.
Original Medicare and Medigap policies don't offer meal delivery or grocery benefits. But some Medicare Advantage HMO and PPO plans do. This is one of the many newer benefits they provide such as dental, vision and transportation to medical appointments.
But as the charts below show, only a very small number of plans offer grocery or meal benefits. And, only a few people actually get this benefit. Does that mean you shouldn't learn more? No. Keep reading. It is a slowly growing benefit.
Starting in 2019 More Medicare Benefits Offered
Starting in plan year 2019, the Centers for Medicare and Medicaid Services (CMS) expanded certain coverage to include nonmedical services.
Under this new definition, Medicare Advantage plans can offer a wider array of supplemental benefits. The benefits are intended to diagnose, prevent, or treat an illness or injury. Or they can compensate for physical impairments, ameliorate the functional impact of injuries or reduce avoidable emergency and health care utilization.
Plans have interpreted this to allow the offering of nonmedical benefits. This includes the broader use of transportation or meal delivery.
What Percentage Of Plans Offer?
Adoption of Special Supplemental Benefits for the Chronically Ill (SSBCI) was relatively limited in the first year.
According to a Commonwealth Fund Report, the number of plans offering these benefits has increased substantially between 2018 and 2020.
Meal provision (20% of plans to 46% of plans)
Transportation (19% to 35%)
In-home support services (8% to 16%)
Acupuncture (11% to 20%)
The chart below shows that the percentage of plans offering has grown. But the number of beneficiaries in these plans remains low (there are 26 million Americans with MA coverage).

And remember that the meal and food benefits are generally for those who are poor (Medicaid recipients or Medicare dual eligibles) and those who are very sick.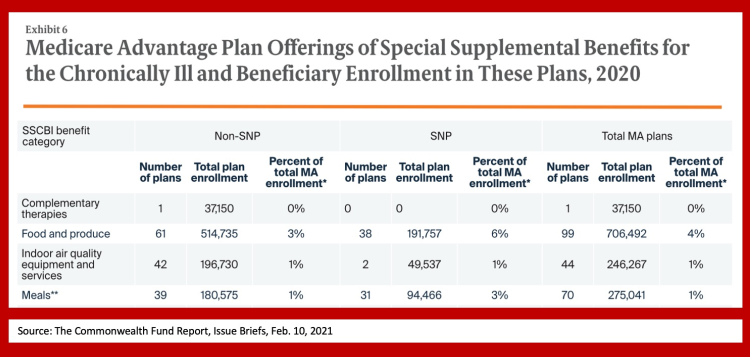 ---
What Is The Medicare Grocery Benefit?
The grocery benefit is offered as a monthly, quarterly, or annual allowance for eligible food and grocery items. Most plans will send you a card that you'll use at participating markets.
The card is known by a few different names. We've seen it called the 'Medicare food card', or the 'Medicare grocery card', the 'healthy Food card' or 'Grocery Plus'.
TIP:  If you believe you qualify and want this benefit, it would pay to speak with a local Medicare Advantage agent. Ask them to help you find a plan in your area.
What Scam Should Seniors Be Aware Of?
An article on Reuters (July 20, 2022) warned seniors to beware of emails or online posts claiming to provide a government-provided spending card for adults over the age of 51.
Reuters warns that the text on the posts read: "Inflation is creeping up on everyone! Last night I was watching the news. I learned that adults over 51 can receive $$$ in additional spending for groceries and expenses. Click Below to Claim." If you receive or see a message like this, ignore and delete it.
What Can I Buy With The Legitimate Medicare Food Benefit?
Basically, healthy foods that are fresh, canned, or frozen. No chips, desserts, sodas or alcohol.
Fruits and vegetables
Dairy products
Meat and seafood
Beans and healthy grains
Cereals
Frozen meals
Staples such as flour, sugar and spices
TIP: Not all plans offer the benefit. And, not all local stores participate. So, if shopping is limited in your area be sure to check this detail before applying.
Some stores that may participate include Kroger/Ralphs, Walmart and Food Lion.
Medicare Grocery Benefit: What Health Conditions Must I Have To Qualify?
Qualifications will vary by plan. But generally speaking, you must have a qualifying health condition to be eligible for the benefit.
Health conditions that may qualify include diabetes mellitus, cancer, heart disease or heart failure, kidney disease, end-stage renal disease requiring dialysis. But others can be significant obesity, rheumatoid arthritis, and autoimmune disorders. Cognitive issues such as dementia could qualify you.
What Are My Other Options For Food Benefits?
There are other ways you might be able to get food benefits.
The Supplemental Nutrition Assistance program, or SNAP is a federal program that helps seniors buy the food they need. You may be more familiar with the prior name, food stamps.
About 4.8 million older adults (age 60+) are currently enrolled in SNAP. Experts believe that another five million are eligible. To learn if you're eligible and apply,
SNAP provides funds that you can use to buy eligible items from grocery stores and other retailers that sell food. They also work at participating farmer's markets.
Each state has different eligibility criteria. Typically you must fall below a certain threshold for household income and assets.
Meals on Wheels For Seniors
Meals on Wheels (MOW) is a federally-funded program.  MOW delivers meals and healthy food to seniors, people with disabilities, individuals recently released from the hospital, and others who may be facing hunger or difficulties purchasing or preparing their own meals.
The program serves over 2.5 million people aged 60 and older each year.
MOW is not covered by Medicare or other health insurance plans. It serves older adults regardless of the ability to pay. Some programs offer a sliding fee scale or take food stamps. Others may suggest a donation.
Each program has different eligibility and levels of suppor. Local senior support groups are generally your best place to start to learn more.
---
Additional Medicare Information You May Find Of Value
Please click on any of the links (below). Read other recent news stories or reports containing information we believe you may find of value.
New To Medicare Law Benefits Seniors Turning 65
2023 Texas Medicare Insurance Costs Released
Senate Report Slams Medicare Advantage Marketing Practices
Medicare Advantage Added Benefits Worth $2,000
What Medicare Supplement Is The Most Popular Medigap?