5 Tips To Find Your 2023 Medicare Prescription Drug Plan
Updated December 6, 2022
Written by: Jesse Slome
Reviewed by: Mindy Hartman
The average senior who switches Medicare drug plans during Open Enrollment will save between $500 and $700 next year. Here are five tips for finding the 2023 Medicare prescription drug plan coverage that will be best for your individual needs.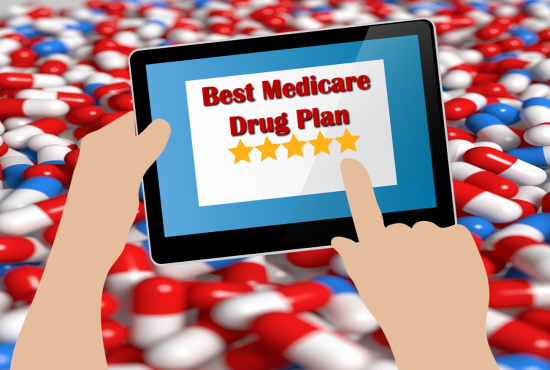 Tips for finding your 2023 Medicare drug plan.
Do a plan comparison check annually.
See how many plans are available for your Zip Code.
Don't simply look for cheapest premium.
Ask your doctor what drugs they may prescribe next year.
Use a comparison system where you can input drug info.
Let's start with something that hopefully makes you smile. I like to tell people that insurance is like a hospital gown. You are never covered quite as much as you think you are.
This is especially true when it comes to Medicare drug plans. Each year many people (could be millions) find their plan doesn't provide the coverage they want. They end up paying a whole lot more than expected. Some don't take drugs simply because they can't afford them.
Finding the best Medicare drug plan is a relatively simple process. There's no reason you can't easily do it yourself. The benefit of an annual drug plan check-up can be significant. That's why Medicare encourages an annual review during Open Enrollment (October 15 – December 7) and provides the ability to switch plans.
A free online drug plan comparison tool is made available from the American Association for Medicare Supplement Insurance. Users simply enter a Zip Code. No personal information is added, which avoids you being added to annoying solicitation lists. If you find a better drug plan, you can use the system to switch. But that is an option.
Seniors Take Lots Of Prescription Medications
The majority of older Americans take prescription drugs. Among adults age 65 and older some 80% take at least 2 different prescription medications. More than half of American seniors regularly take 4 or more. Over a tenth (12%) take 10 different medications each week.
The prescription drug business is big business. Americans spend more on prescription drugs than anyone else in the world. The average spent is $1,300-per-person each year according to the latest data. But that doesn't mean you have to spend more than necessary.
Each year drugmakers have the ability to raise prices. So do Medicare drug plans. Most plans change on January 1st of the coming year. That's why Medicare gives you the chance to review coverage and make a change. It's a use it or lose it opportunity and the final day to act is set in stone (December 7th).
---
Five Tips For Saving: Tip #1
Prior to Medicare Open Enrollment, your current drug plan will have mailed you information regarding changes to the plan. If you haven't received a copy (or neglected to really review it), call your plan immediately to request one. Many will have information online.
If drug coverage is included as part of your Medicare Advantage plan (Medicare Part C) you probably will have to accept whatever changes are being made. However, if you are unhappy, now would be a great time to comparison shop for alternative Advantage plan coverage.
Tip #2: See How Many Plans Are Available in Your Zip Code
Over 23 million seniors have a stand-alone Medicare drug plan. This is separate coverage that you pay for monthly. Typically, an insurance company or a provider (like CVS or Walgreen) offer these plans.
You might be surprised by the number of stand-alone Medicare drug plans available for 2023. The Association's analysis of plans for Southern California found 26 different stand-alone plans. In Arizona there can be as many as 27. In 13 states, you'll have 23 plans to compare and choose from.
Chances are you have never been told about all the plans. Comparing them one at a time is an almost impossible task. That's where online comparison tools can make the job fast and simple.
Compare Premium Costs But Don't Stop There; Tip #3
The Association's analysis notes that one of the larger providers has 3 plan options (for 2023) with monthly premiums ranging from a low of $4.50 to as much as $69.10. Selecting the lowest price option could be your best choice. Or, it could wind up costing you hundreds of dollars.
That's because plans can have deductible and required co-payments. Deductibles you could face in 2023 will range from $0 to as much as $505. The lowest priced option includes co-pays ranging from $2 to $20 per prescription. The highest cost option has co-pays that will range from $0 to $47. For those taking multiple prescriptions and non-generic medications, those co-pays can add up rapidly.
Tip #4: Think Ahead Of Your 2023 Medical Needs
Most people select their Medicare drug plan using a rear-view mirror approach. By that I mean they look at the drugs they are currently taking.
If you know of or anticipate medical situations or treatments that could require drugs, it could pay to have a quick chat with your doctor before the end of Medicare Open Enrollment. You'll benefit by looking for a plan that will provide the best coverage for the new medications you are likely to be taking.
The time when Medicare permits seniors to annually reevaluate their Medicare drug plan is here. It is almost assured that your 2023 plan provisions and costs will be different. Conducting a simple evaluation can yield significant savings. This is especially true if you started taking a new prescription medication this year.
2023 Medicare Drug Plan: Find The Best Plan In 10 Minutes Or Less
Accessing an online portal that compares plans from multiple providers can be your best bet.
The American Association for Medicare Supplement Insurance now makes available a free online 2023 Medicare drug plan comparison tool. Seniors can utilize the tool without having to enter any personal contact information. The tool allows you to enter specific information regarding the specific medications you take. This will enable you to more accurately compare options specific to your personal situation.
---
Additional Medicare Information You May Find Of Value
Please click on any of the links (below) to read other recent news stories or reports containing information we believe you may find of value.
What Medicare Supplement Is The Most Popular Medigap?
Home Care Services Increasingly Covered By Medicare Advantage
Key 2023 Medicare Advantage Data For Consumers
The Illinois Birthday Rule For Medicare Supplement Insurance