2018 MEDICARE SUPPLEMENT INSURANCE CONFERENCE &
SENIOR PRODUCTS NATIONAL EXPO CONVENTION
The Ninth National Medicare Supplement insurance industry conference (Dallas, April 2017) was our largest to date with over 725 registrants ... 82 exhibitors. Another 400 to 500 insurance agents and brokers attended the free day program.
If you want to be part of the 2018 event program click the link below. Email us your contact information and be the first to receive updates and early savings opportunities.
Send me info re: the 2018 National Med Supp & Senior Products Summit
Video recordings of sessions from the 2017 Medicare Summit will be available online. Click the VIDEO LIBRARY link under the Agent Center tab above.
---
---
2017 MEDICARE SUPPLEMENT INSURANCE CONFERENCE PROGRAM INFORMATION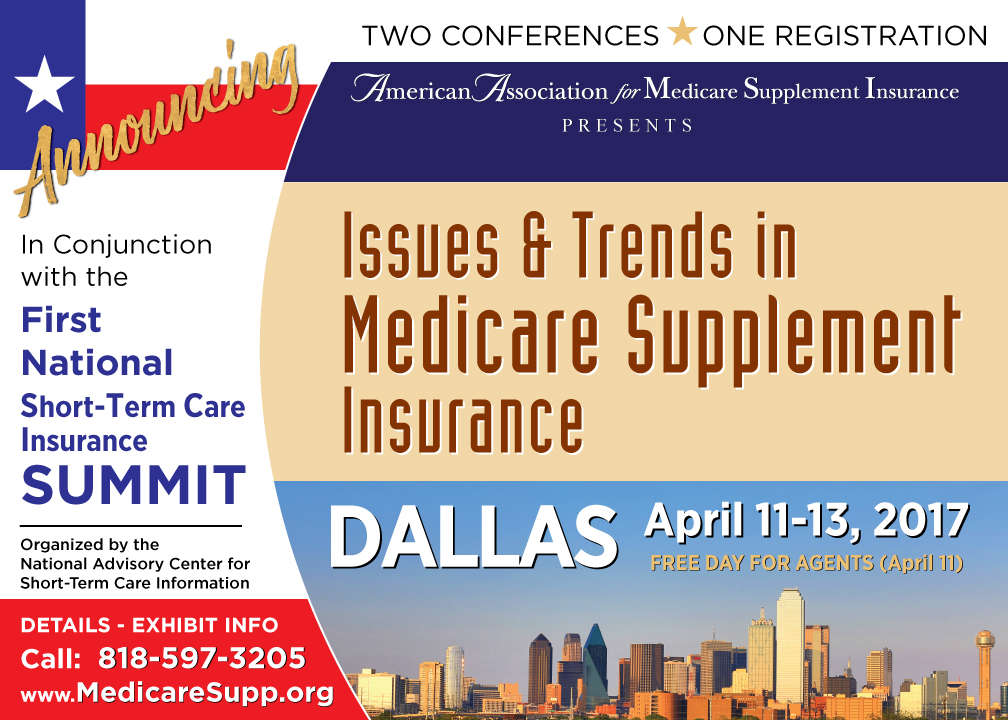 THREE EVENTS - ONE LOCATION - ONE OUTSTANDING PROGRAM YOU CAN'T MISS
THE MAIN EVENT: The 9th National Forum - Dallas, TX - April 11-13, 2017
FOR THE FIRST TIME: National Short-Term Care Insurance Summit - April 11-13, 2017
100% FREE DAY FOR AGENTS & ADVISORS! April 11, 2017 - NO COST- ACCESS PASS
Three Events - One Location - Even A 100% Free Day. What's Taking Place?.
The main event is the 9th ISSUES & TRENDS IN MEDICARE SUPPLEMENT INSURANCE Summit. The only conference 100% focused on Medigap. Attended by the nation's leading Medigap insurers, actuarial and administrative firms, marketing organizations and consultants. 2+ days ... 25+ oustanding sessions.
NEW ADDITION: The First National Short-Term Care Insurance Summit For companies currently in the STC marketplace -- or those who are thinking aboput the growing opportunity.
One conference registration will give you access to either conference.
FREE DAY FOR AGENTS On Tuesday, April 11th, there is no cost to attend a special day of workshops. You will need to request the special 1-DAY ACCESS PASS. We'll have special sessions and you can spend time meeting with exhibitors and other experts attending the event.
Why You Should Attend The 9th National Medicare Supplement Industry Conference
An outstanding program featuring the industry leaders as presenters.
Enormous networking opportunities with folks you've wanted to meet -- they'll likely be here.
The latest information from Regulatory and Compliance experts (reporting directly from the NAIC meeting)
Because this truly has become the national gathering for the Med Supp industry.
Who Should Attend?
Anyone who
MARKETS
SELLS
PRICES
ADMINISTERS & SUPPORTS MED SUPP INSURANCE and other senior-related products.
The conference organizing committee includes leading industry experts who are committed to putting together a relevant program. We look forward to seeing you in Dallas.
Questions - Exhibiting or Sponsorship Opportunities - Call Us
Conference Organizer: American Association for Medicare Supplement Insurance
818-597-3205

We prefer phone calls over Emails (helps cut down on spam).
SPECIAL FOR AGENTS & BROKERS - FREE 1-DAY EVENT
Tuesday, April 11, 2017
A free program featuring top experts and sales pros.
PLUS - free access to the nation's #1 Med Supp Exhibit Hall
MEET with insurers and leading distributors & MORE!
Click here for details.

Address
American Association for Medicare Supplement Insurance
(AAMSI)
32504 Carrie Place
Westlake Village, CA 91361